The City

The biggest city of the South of the State of Espírito Santo, Cachoeiro de Itapemirim, is known nationally by the industrial park of processing of ornamental stones and pioneer in this market in the whole country.
Also known as the Marble capital of Brazil, Cachoeiro de Itapermirim has one of the largest marble quarries of Brazil , being responsible for supplying 80% the Brazilian marble market.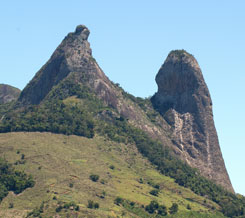 Located 136 km from Vitória, Cahoeiro de Itapemirim has as attractions some natural beauties considered postcards of the State, besides your close location to beaches and mountains. We can mention the Friar and Nun´s Rock and the pick of Itabira, known as God´s Finger.
Cachoeiro de Itapemirim
Brazilian marble capital;
Largest concentration of processing dimensional stone companies in Latin America;
Largest brazilian pole of machines and equipment manufacturers for the stone industry;
Distribution center and excellence of the sector.