HOW TO GET THERE
Local:
Parque de Exposição Carlos Caiado Barbosa
Rod.Cachoeiro x Muqui, KM 01 - Aeroporto
29314-400 - Cachoeiro de Itapemirim, ES
GPS: 20°50'01.0"S 41°10'21.1"W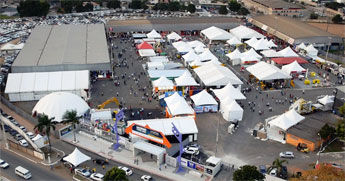 ---
By Plane:
Airport Eurico de Aguiar Salles – Vitoria, ES

Telephone: + 55 27 3083.6300 e 27 3083.6350
Website: www.infraero.com.br
Vitoria Airport (VIX) is the main airport in Espírito Santo. There are direct flights from the main airports in Brazil:
São Paulo: Guarulhos (GRU) e Congonhas (CGH)
Rio de Janeiro: Galeão (GIG) e Santos Dumont (SDU)
Minas Gerais: Belo Horizonte - Confins (CNF)
Brasília: (BSB)
Bahia: Salvador (SSA)
Paraná: Curitiba (CWB)
Rio Grande do Sul: Porto Alegre (POA)
Recife: Pernambuco (REC)
*For other options consult your travel agent.
---
By Car:
Cachoeiro de Itapemirim is distant 138 km of Vitoria, the state capital of the Espírito Santo and can be accessed by BR-101 and BR-262 highways.
Rio de Janeiro - RJ: 401 km
Belo Horizonte - MG: 476 km
São Paulo - SP: 752 km
Salvador - BA: 1.188 km

See at Google Maps: